Job Opportunities in our area:
Here are some links to job opportunities that may be helpful during these uncertain economic times.
---
ARDOT
Available positions at the Arkansas Department of Transportation in the Central Arkansas area are listed below.
The employment application can be found at www.ardot.gov/employment.
Maintenance Aide I

District 7 – Calhoun County

Hampton,

AR

2/25/2021
Maintenance Aide I

District 7 – Cleveland County

Rison,

AR

2/25/2021
Maintenance Aide I

District 7 – Dallas County

Fordyce,

AR

2/25/2021
Construction Aide

District 7 – Resident Engineer's Office #73

2245 California Avenue

Camden,

AR

2/24/2021
Construction Aide

District 7 – Resident Engineer's Office #74

2245 California Avenue

Camden,

AR

2/24/2021
Maintenance Specialist

District 9 – Baxter County

Mountain Home,

AR

2/24/2021
Maintenance Aide II

District 6 – District Maintenance Crew

8900 Mabelvale Pike

Little Rock,

AR

2/24/2021
Bridge Job Superintendent

District 7 – District Bridge Crew

Camden,

AR

2/24/2021
Intern – Archeological

Environmental – Cultural Resources

10324 Interstate 30

Little Rock,

AR

2/19/2021
Permit Technician

AHP – Permits

10324 Interstate 30

Little Rock,

AR

2/17/2021
Intern – Civil Engineering

Statewide

Statewide,

AR

2/17/2021
Intern – Surveys

Surveys

10324 Interstate 30

Little Rock,

AR

2/17/2021
Maintenance Aide I

District 6 – Garland County

Hot Springs,

AR

2/16/2021
Advanced Structures Engineer

Bridge – Inventory Rating

10324 Interstate 30

Little Rock,

AR

2/12/2021
Senior Structures Engineer

Bridge – Inventory Rating

10324 Interstate 30

Little Rock,

AR

2/12/2021
Structural Detailer

Bridge – Design Squad 4

10324 Interstate 30

Little Rock,

AR

2/12/2021
Senior Bridge Design Engineer

Bridge – Design Squad 3

10324 Interstate 30

Little Rock,

AR

2/12/2021
Maintenance Aide I

District 6 – Park Crew

Little Rock,

AR

2/12/2021
Engineer (various locations statewide)

10324 Interstate 30

Statewide,

AR

1/12/2021
---
Aspen Dental
We are currently in search of licensed Dental assistants and front office team members.
---
Clinton National Airport
The Airport is currently looking for individuals to fill the following openings below.
All jobs are full-time with benefits including medical and retirement. Applicants can visit our website to apply of find out more information – https://clintonairport.com/airport-business/career-opportunities/jobs/.
Building Maintenance Tech
Cashier
Custodial Attendant
---
Little Rock Zoo
Are you interested in a career in #STEM Education at an AZA accredited zoo? Do you enjoy working with the community, school districts, students and guests of all ages? Check out this full-time coordinator position at @LittleRockZoo: http://bit.ly/LRZooEducationProgramsCoordinator
---
Amazon
Area Manager 2021 Louisiana/Arkansas (Entry Level)
This role will start between January 2021 and September 2021. This is a full-time position.
Amazon is looking for high-potential leaders, who are ready to own their impact in Amazon Operations as an entry-level manager. As a people leader, you will have an opportunity to truly invest in others and develop a collaborative leadership style, while mastering the tools, processes, and operations that have helped create the most customer-centric company on Earth. If you want to be involved in continuing to define the future of online retail, are energetic, and an organized self-starter, apply to join our team in Amazon Operations as an area manager! Amazon provides extensive training and development for entry level managers to learn to become exceptional people leaders. Come learn how the largest online retailer in the world runs its fulfillment and delivery networks!
BASIC QUALIFICATIONS
A bachelor's or master's degree with a conferral date between May 2019 and August 2021
Area Manager – Little Rock, AR
Our WW Operations network delivers millions of packages and smiles to Amazon customers every day. We are looking for motivated, customer-focused individuals who want to join our team as an Area Manager. In this role, you will lead a team of hourly workforce and will be responsible for engaging your team during their shifts to maintain the highest levels of safety, quality, attendance, and performance. You will also play a key role in maintaining our customer expectations to ensure customer orders are delivered at the right time, to the right location.
BASIC QUALIFICATIONS
A Bachelor's Degree or 2+ years Amazon (blue badge/FTE) experience
· 2+ years of direct management experience for employees and their performance
· Work a flexible schedule/shift/work area, including weekends, nights, and/or holidays
EMAIL YOUR RESUME TO: K. Reese.
---
Central Arkansas Library Systems
Be Mighty Specialist – Central Arkansas Library System is seeking a full time Specialist to work on the Be Mighty Campaign. The Be Mighty Campaign is a grant funded city-wide campaign that connects kids and teens to free afterschool and summer meal programs. The grant is funded through December 2021 with the potential of being funded through June 2022 or beyond. In conjunction with an advisory board composed of representatives of partnering organizations, the Specialist is responsible for managing, organizing, and coordinating a wide variety of functions and performing various administrative and technical duties in support of the program. The starting annual salary range is $37,668 with excellent benefits. Interested candidates should send application and resume with subject line: Be Mighty Specialist to adminjobs@cals.org by Tuesday, March 9, 2021.
---
Arvest Bank
Teller – Hot Springs https://www.appone.com/MainInfoReq.asp?R_ID=3443109
Teller – Hot Springs https://www.appone.com/MainInfoReq.asp?R_ID=3443140
Teller – Morrilton https://www.appone.com/MainInfoReq.asp?R_ID=3431491
Seasonal Teller – Hot Springs area https://www.appone.com/MainInfoReq.asp?R_ID=3448362
Senior Teller – Bryant https://www.appone.com/MainInfoReq.asp?R_ID=3448427
Contact Amber Boone for more information.
---
Arkansas Children's Hospital
Social Work – LMSW or LCSW – We have several different opportunities on our Social Work team. Full time, part time and PRN are available.
Executive Assistant – This is an executive level assistant in the C-Suite. We are looking for those with at least an Associate's degree and 5 years of executive lever type Admin experience.
Accounting Manager – A great career opportunity as a leader on our Accounting team.
Accountant I Specialized – Be a part of the Cost Accounting team with your accounting skills analyzing medical cost.
RN II NICU – Be a RN for tiniest creations with this weekend Neonatal RN role.
RN II, Surgery/Operating Room – Our Surgery Team is looking for the nurse who wants to change lives in the OR.
Central Sterile Lead Technician – Put your sterile processing skills to work in this leadership role!
Surgical Technologist I – Setting up the OT and being a part of this OR Team. Looking for grads of a Surg Tech program.
Patient Access Representatives – Greet families coming into our cancer center with a warm smile
Patient Access Representative – Patients and families will look forward to you greeting them at the Surgery Clinic.
These and other career opportunities are waiting for you at www.archildrens.org/careers
---
Federal Bureau of Prisons
The Federal Bureau of Prisons is hiring. The jobs are federal government law enforcement positions and allows a person to retire after 20 years of service. Military veterans are welcomed. An applicant must not have reached his/her 37th birthday to be eligible for hire, must pass a urinalysis, and pass a background investigation for security clearance. The BOP offers excellent health and life insurance and Thrift Savings Plan (a retirement plan similar to a 401k).
Federal Correctional Complex – Forrest City, AR
HIRING EVENTS – March 3, 2021 • April 1, 2021 • May 12, 2021 – 8a – 5p
FCC Forrest City – Staff Training Center, 1301 Dale Bumpers Road, Forrest City, AR 72335 (45 minutes West of Memphis, TN)
Fcc forrest city is hiring correctional officers, medical professionals, & many more positions. Join us to learn about career opportunities available throughout our institution. Meet with professionals, learn about benefits & apply online with assistance. Equal Opportunity Employer.
Be sure to bring: Driver's License, Social Security Card, Resume, USAJOBS Login Information
Benefits: Law Enforcement Retirement, Promotion Opportunity, Competitive Salary, Vanpool Commuting, 401 K with 5% Match, Sick Leave, Vacation Time, Paid Holidays, Life Insurance Options, Overtime, Shift Differential
CLICK HERE to search jobs in Arkansas..
---
Arkansas Electric Cooperatives
We have career opportunities available in our Power Production & Delivery and Power & Market Operations Divisions.
Maintenance Engineer I – Sr.
Power Market Operator
Assistant Power Market Operator
Construction Tech I – II
Civil Engineer I – III
Transmission and Construction Analyst
Project Manager Entry – III
If you, or someone you know is interested in applying for any of these positions, please share the following link with them: www.aecc.com/careers. When searching for an open position, be sure to search "All" Departments, "All" Position Types and "All" Locations.
If you would like to speak to one of our recruiters about these positions, you may contact them at 501-570-2200; and ask to speak to a recruiter.
To stay up to date on all of our open positions, follow Careers at Arkansas Electric Cooperatives on Facebook.
---
Unlimited Properties Realty
Licensed Real Estate Agents
Administrative Staff
Contact: Melanie Jackson MBA, Broker
501-744-6084
http://ulprealty.com/
---
Good Earth Garden Center
SEASONAL CASHIER

Job description:
The Good Earth Garden Center is seeking a temporary cashier to supplement our full time staff during our busy spring season. This position begins in February and will continue through our Spring peak season (weather dependent but typically, middle to end of May). Our hours during the peak season are 7 am to 6 pm Monday – Saturday and Sundays, 11 am to 5 pm.
LANDSCAPE PROJECT MANAGER
Job description:
The Good Earth Garden Center is seeking a Landscape Services Project Manager to successfully supervise and manage multiple residential & commercial landscape construction projects in the Little Rock area. Our office is outdoors, and you get a new view every day!
---
McLarty Automotive Group
View Job Openings Here: Arkansas Jobs
---
The PAT Center
Therapist (North Little Rock, Little Rock, & Pine Bluff locations)
Minimum Qualifications: Licensed Psychologist, LCSW, LMSW, LPE-I, LPC, LAC, LMFT, APN or CNS with a specialty in psychiatry or mental health. To apply please submit a resume, cover letter and list of references via email to thepatcenter@yahoo.com, download application, or apply online.
Full-Time Mental Health (Bachelor's Level)
Qualified Behavioral Health Providers (QBHPs): Full-time positions for the Little Rock & Pine Bluff area. Minimum Qualifications: Bachelor's degree in a human service-related field. To apply please submit a resume, cover letter and list of references via email to thepatcenter@yahoo.com, download application, or apply online.
---
Little Rock Fire Department
---
Little Rock Police Department
A law enforcement career is unique among professions and demands commitment, dedication and courage that other officers can rely upon in the midst of critical life and death matters. We have the largest police department in the state and offer the best and most thorough on-site training available to prepare you for the job. Being a Little Rock Police Officer is both rewarding and transforming.
---
City of Little Rock
Apply HERE
Automotive Technician I and II
Animal Keeper – Senior (Reptiles and Program Animals)
Leader (Public Works – Street and Drain Maint and Storm Drain Maintenance)
Labor Work Pool (General Laborer)
Administrative Assistant I – LR Animal Village
Animal Services Supervisor Field Operations
Helpdesk Support Specialist – Senior
Automotive Technician I and II
Solid Waste Equipment Operator III
Landfill Maintenance Repair Specialist
Senior Accountant (Reporting and Compliance)
---
City of Sherwood
Seasonal
Posted February 23, 2021 | Open Until FilledUnder the general supervision of the Concession Manager, operates the concession stand. Essential Duties and Responsibilities: 1) Greet customers, take… Full Description
---
Central Arkansas Water
---
Spherion Staffing Agency
Program Analyst-Little Rock
-Ability to resolve customer escalations in a timely and efficient manner. -Strong organizational skills. -Provide strong customer service experiences with many types of customer groups. -Research, organize and resolve commission escalations for partner programs. -Answer and transfer inbound calls. -Monitor and collect on overdue accounts in a manner that promotes an ongoing business relationship with the customer. -Verify outbound orders meet both financial and inventory criteria. -Control inventory levels of customers across multiple programs. -Data entry as required for all internal systems and Office program Skills: -Computer literate in a Microsoft Windows environment. -Basic to intermediate level of experience using Microsoft Excel. -Basis understanding of Outlook -General knowledge various standard office equipment Shift Timings: Monday-Friday 8:00 AM-5:00 PM
Warehouse-Little Rock
Qualifications: -Customer Service -Forklift experience -Shipping and Receiving -Sales Experience -Computer Experience – Shift Timing: Monday-Friday 8:00 AM-5:00 PM -This job pays $15.00 per hour.
Salesforce Architect
Experience in designing and developing software components.
End to end implementation experience with the SFDC platform.
Responsible for the overall design, development, customization, and end-user support of the Salesforce platform including Service Cloud, Community Cloud, and other installed packages.
Develops and maintains enterprise architecture model and standards, including conceptualization and planning, system design and implementation design.
Develops/reviews technical documents to ensure consistency, accuracy and compliance with technology directions.
AFMC, state and federal protocols regarding data confidentiality / security and HIPAA compliance.
Salesforce Developer
Integrate multiple systems with Salesforce, including internal proprietary and third-party applications.
Application design, configuration, testing and deployment
Guide users in formulating requirements, advise on alternatives and on the implications of new or revised processing analysis.
Develop, test, and document working custom development, integrations, and data migration elements of a Salesforce implementation.
Follow AFMC, state and federal protocols regarding data confidentiality / security and HIPAA compliance.
---
UALR Open Positions
CLICK HERE to access their jobs portal.
Direct links to specific jobs are below.
Associate Director of Alumni Membership and Engagement
Associate Director of Advancement Services
Fire Safety Systems Supervisor
---
Little Rock Water Reclamation Authority
CLICK HERE for their Careers section
---
Stonehaven Assisted Living
is currently hiring for the following positions listed below:
1– CNA/Resident Care Aide; Part time 7a-7p
3– CNA/Resident Care Aide; PRN (part time as needed)
1-RN/LPN; Mon-Fri 7a-3p
1-RN/LPN; Mon-Fri 11p-7a
3-RNs/LPNs; PRN (part time as needed)
*Resident Care Assistants do not have to be certified nursing assistants (CNAs)
To apply please https://www.chgseniorliving.com/careers/
---
Contact Recruiter Cindy Choisser (501-682-6007) with any questions about available positions at DHS.
Grants Analyst
Position # 22111265
Starting Salary: $36,155.00
Link to Apply: https://arcareers.arkansas.gov/job/Little-Rock-GRANTS-ANALYST-AR-72201/703924200/
Closing Date: 2/19/21
Budget Specialist
Position # 22110695
Starting Salary: $36,155.00
Link to Apply: https://arcareers.arkansas.gov/job/Little-Rock-BUDGET-SPECIALIST-AR-72201/706912600/
Closing Date: 2/19/21
---
Arkansas Department of Workforce Services –
There are always listings and helpful resources available here. If you are not sure where to start, this should be your first stop!
---
Ready To Work for the State of Arkansas?
Deciding on your next career move can be an overwhelming decision. Working for the State means working alongside others who want to make a difference in the lives of Arkansans. To make the decision easier, we have put together a new streamlined site to help you find your next career opportunity. You can search open positions and apply directly from this site. You can also join the talent community and receive email alerts on your tablet or smartphone. It's a great resource if you are looking for a rewarding career in public service.
---
Pulaski County Jobs
CLICK Here for the latest jobs listing.
---
Walgreens
Other positions include:
Assistant Store Manager
Beauty Consultant
Customer Service Associate
Designated Hitter
Healthcare Services Pharmacist
Pharmacy Cashier
Pharmacy Manager
Senior Certified Pharmacy Technician
Shift Lead
Store Manager
For more information or to apply, please visit jobs.walgreens.com
---
TTEC – Sherwood
You have been instrumental to our ability to promote our job opportunities to the people in your community.
Today, we are glad to share that we are continuously hiring forSales Representative
We offer:
Paid training
Competitive Hourly Pay + Commission Bonus
Career Advancement Opportunities
We were hoping for your continued support in letting everyone in your community know about the job opportunities we have for them.
Interested job seekers are encouraged to apply online at TTECjobs.com or have them text 'TTEC" to 97211.
---
Central Arkansas Workforce Development (Facebook Page with great leads on jobs)
Hiring List provided by Andrew Seaman (a journalist who posts and updates an opportunity listing on LinkedIn)
Here are links to Company Websites for businesses reported to be hiring right now.
Arkansas Blue Cross Blue Shield
---
We are not responsible for the information exchange or the results of any communications based on the information shared above.
This is meant for informational purposes only and any links to information are not monitored by Saint Mark Baptist Church or our staff, and therefore we can not be held liable for contacts made and the outcome of those interactions.
Important Information regarding Saint Mark response to COVID-19 outbreak
Pre-register for upcoming vaccine opportunities!
We are partnering with several organization to make sure that our community has access to vaccine opportunities as soon as they are available. So far, we've registered 180 seniors through Baptist Health, shared openings with Walgreens, and partnered with UAMS for an upcoming mobile clinic (to be rescheduled).
In order to expedite the process for future opportunities, we are opening a pre-registration based on the phased eligibility as announced by the Arkansas Department of Health. Click the link below to get on the wait list and when opportunities open for your category, we will contact you.
---
VACCINE OPPORTUNITIES:
Arkansas Heart Hospital
Arkansas Heart Hospital has open appointments for the vaccine for all eligible groups. CLICK HERE for details.
---
Arkansas Department of Health
The Arkansas Department of Health has a full listing of pharmacy locations where you can make appointments to get vaccinated. Just search for your county and click this link for a pharmacy near you.
---
The Mobile Vaccine Clinic was postponed due to last week's winter weather event. A new date will be announced soon.
---
Virtual Worship Continues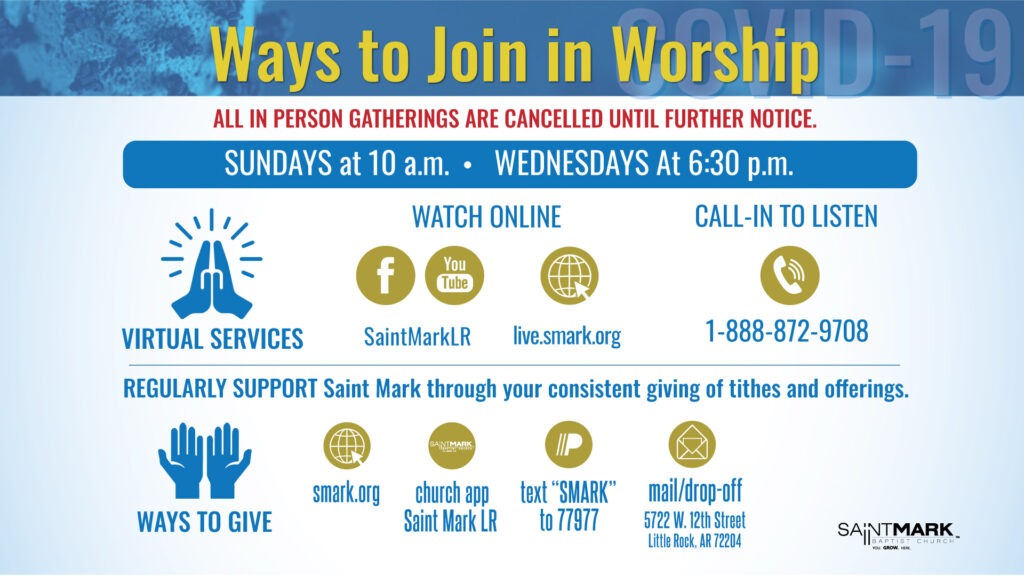 Read the letter from Pastor P HERE.
Following the recommended precautions of our city's leadership and health professionals, we are continuing to practice social distancing. We want to be a part of the solution to suppress exposure to the highly contagious disease. The following outlines changes to our worship, meeting and event schedules:
We will have ONE service at 10 a.m. on Sundays – TO BE VIEWED VIA FACEBOOK AND LIVESTREAM ONLY – until further notice. This means our campus will NOT host members and guests on Sunday, in order to keep our live in-sanctuary attendance at a minimum.
We will only have evening Bible Study on Wednesdays – TO BE VIEWED VIA FACEBOOK AND LIVESTREAM ONLY – until further notice. We will NOT host members and guests on campus on Wednesday.
PLEASE CONTINUE TO REGULARLY SUPPORT SMBC FINANCIALLY through your consistent giving of tithes and offerings through use of your giving envelopes, the Saint Mark app, and the PushPay app, both of which can be downloaded from the app store of your digital device. The church offices will be open during regular business hours for those who want to bring their contributions and leave them in the giving boxes in the Atrium. Those who choose to mail their contributions to the church should use this mailing address:
Saint Mark Baptist Church
5722 W. 12th Street, Little Rock, AR 72204, ATTN: SMBC FINANCE COMMITTEE
ALL OTHER MINISTRY MEETINGS, REHEARSALS, AND ACTIVITIES ARE CANCELLED UNTIL FURTHER NOTICE.
The Saint Mark Baptist Church (SMBC) seeks to be a proactive congregation and community partner in mitigating exposure and spread of the coronavirus in our area. In an effort to inform SMBC members and friends of our continued efforts to ensure the health and safety of our congregation, please be aware of the following:
CURRENT STATUS & PROCEDURES
All persons entering our buildings must stop at the tables at the Main Entrance to conduct any business with the church. Use of hand sanitizer and other safety procedures are mandatory.
The SMBC maintenance staff conducts a daily and regular cleaning of our Worship Center, Children & Youth Center. Family Life Center, and Outreach/Education Center, including worship spaces, meeting rooms, classrooms, offices and restrooms throughout the week prior to and post event usage. This practice utilizes standard cleaning tools, instruments, and disinfectants.
SMBC has a combined twenty-eight operational multi-person and single-use restrooms across our campus. Each are equipped with soap dispensers and paper towels.
SMBC is currently supplied with multiple bottles of hand sanitizer in every gathering space outside of the sanctuary for member and visitor use.
HOW CAN YOU HELP?
Get vaccinated as soon as your opportunity is available. Get on our wait list now.
If you are displaying any symptoms of a cold, flu or virus of ANY FORM:
We ask that you NOT enter the church facility until you recover from any and all symptoms through the full 14-day CDC advised self-quarantine period; this includes ALL members, ministry leaders, visitors and church staff.
We ask that you take the necessary health precautions and contact your doctor for advisement.
We ask that you thoroughly wash your hands for twenty seconds using disinfectant soap in all settings.
We ask that you limit your coughs to within the elbow and sleeve space of the arm to reduce the spread of potential bacteria in all settings.
We ask that you visit the website of The Center of Disease Control for further prevention measures you can take to protect you and your family: https://www.cdc.gov/corona…/2019-ncov/community/…/index.html.
Don't have Adobe Acrobat? Download it free here

.
Bible Study Notes

All In Series

All In Series, Pt. 2

Bound to Be Free

Esther – Week 5

Influencer (Esther: Positioned for Purpose)

Influencer – Week 7

Influencer Week 3

Influencer: Week 9 Notes

Finding My Fit: A Study of the Spiritual Gifts

Finding My Fit: Spiritual Gifts Survey

Fall 2018 – Trending, Part 2

February 28 – Trending
---
Take the Online Spiritual Gifts Survey
Annual Reports
2020 Annual Impact Report
2019 Annual Impact Report
2018 Annual Impact Report
2017 Annual Impact Report
2016 Annual Report
2015 Annual Report
2014 Annual Report

If you or someone you know would like to talk with someone about feeling overwhelmed, anxious, or even distressed, please reach out and will get you to the help you need. Just CLICK HERE to complete a short form and someone will get back to you soon.
---
Other Local Resources
Purposely Psyched Psychotherapy & Consulting, PLLC, Terri Albert, LAC
4 Shackleford Plz, Suite 100  |  Little Rock, AR 72211  |  501-398-1385
terri@purposelypsyched.com
Grace Place Therapy,  Sharita Bilson, LAC
10201 W. Markham St. Suite 316 | Little Rock, AR 72205 | (501) 482-5173
therapywithSharita@gmail.com
The Legacy for Children & Families, LLC, Christasia Coleman, LPC-S
190 Jan Drive, Suite 10 in Sherwood, AR 72120 | 501-590-5121
Beatrice Terrell, LCSW Therapy & Self-Development | 501-689-9365
Paula McCarther, LCSW Insight Renewal Center | 501-414-0111
Wade Fuqua, LPC, LMFT Chenal Family Therapy, PLC | 501-781-2230
Kelly Moffett-Place, LPC New Beginnings Behavioral Health Services | 501-663-1837
Charmaine Beasley – 
PrimeCARE Medical Clinic 
2504 McCain Blvd Ste 118, North Little Rock AR
H.E.R. Counseling and Wellness
201 W. Broadway, Suite G18, North Little Rock, AR 72114 | hercounseling.org
Nikia Johnson, LCSW
H.E.R. Counseling and Wellness
201 W. Broadway, Suite G18, North Little Rock, AR 72114 | hercounseling.org
Email: NikiaJ@hercounseling.org    Phone:901-290-8141
Rice Clinic
Abeer Washington, M.D.
1301 Wilson Rd., Little Rock, AR 72205 | 501.225.0576
Robinson Counseling (Therapy for Individuals, Couples, & Families)
Kitty Robinson
501-308-3741 | 210 S. Pulaski, Little Rock, AR | Kittyrobinsoncounselingpllc.com
Mid State Counseling and Recovery Service
1920 Main Street  – Ste. 229, North Little Rock, AR  72114 | 501-413-8977
SoulCare | 501.663.3955
---
Phone Resource that are 24/7:
National Suicide Hotline – 1.800.272.8255
Child Help USA National (Child Abuse) 1.800.422.4453
Crisis Textile Text "HELLO" to 741741
LGBT Suicide Hotline 866.488.7386
Boys Town At Risk Teens 800.448.3000
Human Trafficking 1.888.373.7888
Teen Dating Violence 1.866.9474
Anti-Violence Project 212.714.1124
National Sexual Assault 1.800.656HOPE
National Eating Disorder 1.800.931.2237
Runaway Switchboard 800.786.2929
Domestic Violence 1.800.799.7233