Job Opportunities in our area:
Here are some links to job opportunities in our area.
---
We are currently in search of licensed Dental assistants and front office team members. aspendentaljobs.com
---
Clinton Foundation
Assistant Banquet Manager. The Assistant Banquet Manager is responsible for assisting the Banquet Manager all aspects of "front of house service" for 42's day and evening special events. He/she manages servers to ensure exceptional service, hospitality and unparalleled dining experiences in collaboration with the Banquet Manager. She/he collaborates with the Banquet Manager in scheduling day and evening special event/banquet servers, handling customer concerns, maintaining attractive ambiance, overseeing all bars (cash or hosted) controlling banquet inventory, collecting final payment from client if required, and overseeing banquet /building closing procedures prescribed by NARA and in the absence of the Banquet Manager, acts as the" Manager on Duty". The Assistant Banquet Manager also facilitates front and back of house coordination with the Banquet Sous Chef and in the absence of the Banquet Manager. Qualifications
2 years banquet supervisory experience
Banquet Event Orders(BEO's) Banquet Management, Basic knowledge of wine, spirits, and cuisine
Communication, Hospitality, Supervisory Management Experience
Ability to multitask, perform in a high-pressure environment with diverse groups of employees and customers.
---
Clinton National Airport
The Airport is currently looking for individuals to fill the following openings below. All jobs are full-time with benefits including medical and retirement. Applicants can visit our website to apply of find out more information – https://clintonairport.com/airport-business/career-opportunities/jobs/.
---
Little Rock Zoo
Are you interested in a career in #STEM Education at an AZA accredited zoo? Do you enjoy working with the community, school districts, students and guests of all ages? Check out this full-time coordinator position at @LittleRockZoo: http://bit.ly/LRZooEducationProgramsCoordinator
---
Arkansas Children's Hospital
Social Work – LMSW or LCSW – We have several different opportunities on our Social Work team. Full time, part time and PRN are available.
Executive Assistant – This is an executive level assistant in the C-Suite. We are looking for those with at least an Associate's degree and 5 years of executive lever type Admin experience.
Accounting Manager – A great career opportunity as a leader on our Accounting team.
Accountant I Specialized – Be a part of the Cost Accounting team with your accounting skills analyzing medical cost.
RN II NICU – Be a RN for tiniest creations with this weekend Neonatal RN role.
RN II, Surgery/Operating Room – Our Surgery Team is looking for the nurse who wants to change lives in the OR.
Central Sterile Lead Technician – Put your sterile processing skills to work in this leadership role!
Surgical Technologist I – Setting up the OT and being a part of this OR Team. Looking for grads of a Surg Tech program.
Patient Access Representatives – Greet families coming into our cancer center with a warm smile
Patient Access Representative – Patients and families will look forward to you greeting them at the Surgery Clinic.
These and other career opportunities are waiting for you at www.archildrens.org/careers
---
Arkansas Electric Cooperatives
We have career opportunities available in our Power Production & Delivery and Power & Market Operations Divisions.
Maintenance Engineer I – Sr.
Power Market Operator
Assistant Power Market Operator
Construction Tech I – II
Civil Engineer I – III
Transmission and Construction Analyst
Project Manager Entry – III
If you, or someone you know is interested in applying for any of these positions, please share the following link with them: www.aecc.com/careers. When searching for an open position, be sure to search "All" Departments, "All" Position Types and "All" Locations. If you would like to speak to one of our recruiters about these positions, you may contact them at 501-570-2200; and ask to speak to a recruiter. To stay up to date on all of our open positions, follow Careers at Arkansas Electric Cooperatives on Facebook.
---
Unlimited Properties Realty
Licensed Real Estate Agents
Administrative Staff
Contact: Melanie Jackson MBA, Broker 501-744-6084 • http://ulprealty.com/
---
Beauty Sales Consultant
Seeking someone that is willing to work a commission based job, approximately 3 days per week, Wednesday, Thursday, Friday, (subject to change), and who has a basic knowledge of the beauty products sales industry. Must be neat, professional, trustworthy and a people's person that wants to make some extra money. Good opportunity for an active senior, physically able to lift boxes of 25lbs or more with their own transportation preferably an SUV or van. Must be willing to travel and service areas such as Little Rock, North Little Rock, Jacksonville, Sherwood, Pine Bluff, and Conway. More details available upon interview. Please contact Mr. Tony Keener at (501) 541-5390, Faith Beauty Supply.
---
Good Earth Garden Center
SEASONAL CASHIER Job description: The Good Earth Garden Center is seeking a temporary cashier to supplement our full time staff during our busy spring season. This position begins in February and will continue through our Spring peak season (weather dependent but typically, middle to end of May). Our hours during the peak season are 7 am to 6 pm Monday – Saturday and Sundays, 11 am to 5 pm.
LANDSCAPE PROJECT MANAGER Job description: The Good Earth Garden Center is seeking a Landscape Services Project Manager to successfully supervise and manage multiple residential & commercial landscape construction projects in the Little Rock area. Our office is outdoors, and you get a new view every day! Apply Now
---
McLarty Automotive Group
View Job Openings Here: Arkansas Jobs
---
The PAT Center
The City of Little Rock has multiple job openings, including Full-time, Part-time, Seasonal.
Important Information regarding Saint Mark response to COVID-19 outbreak
ONGOING VACCINE OPPORTUNITIES:
Arkansas Heart Hospital
Arkansas Heart Hospital has open appointments for the vaccine for all eligible groups. CLICK HERE for details.
---
Arkansas Department of Health
The Arkansas Department of Health has a full listing of pharmacy locations where you can make appointments to get vaccinated. Just search for your county and click this link for a pharmacy near you.
---
Baptist Hospital COVID Vaccine Clinic
Visit our friends at Baptist Health to set up your vaccine appointment. CLICK HERE
---
Kavanaugh Pharmacy Vaccine Clinic
Visit our friends at Kavanaugh Pharmacy to set up your vaccine appointment. CLICK HERE
---
UAMS Vaccine Clinic
Visit our friends at UAMS Health to set up your vaccine appointment. CLICK HERE
---
The Centre at University Park (UAMS sponsored clinic)
In partnership with the City of Little Rock, the University of Arkansas for Medical Sciences (UAMS) is moving its public vaccination clinic to a new location. Starting Feb. 25, the clinic will be located at the Centre at University Park at 6401 West 12th St., in Little Rock. This larger space is being provided by the City of Little Rock. The one-level building is more accessible for those with mobility issues.
UAMS is currently administering both the Pfizer and Moderna vaccines following the Arkansas Department of Health guidelines. Appointments are required.
The COVID Vaccine Clinic will be open 7:30 a.m. to 5 p.m. Monday through Friday, from 9 a.m. to 5 p.m. on Saturdays and from noon to 4 p.m. on Sundays.
Appointments can be requested by calling (501) 686-8960 or visiting vaccinesignup.uams.edu/. If phone lines are busy, callers will be asked to leave a message. Calls and online requests will be returned in the order in which they are received. You do not have to be a UAMS patient to receive a vaccine at this clinic.
---
Virtual Worship Continues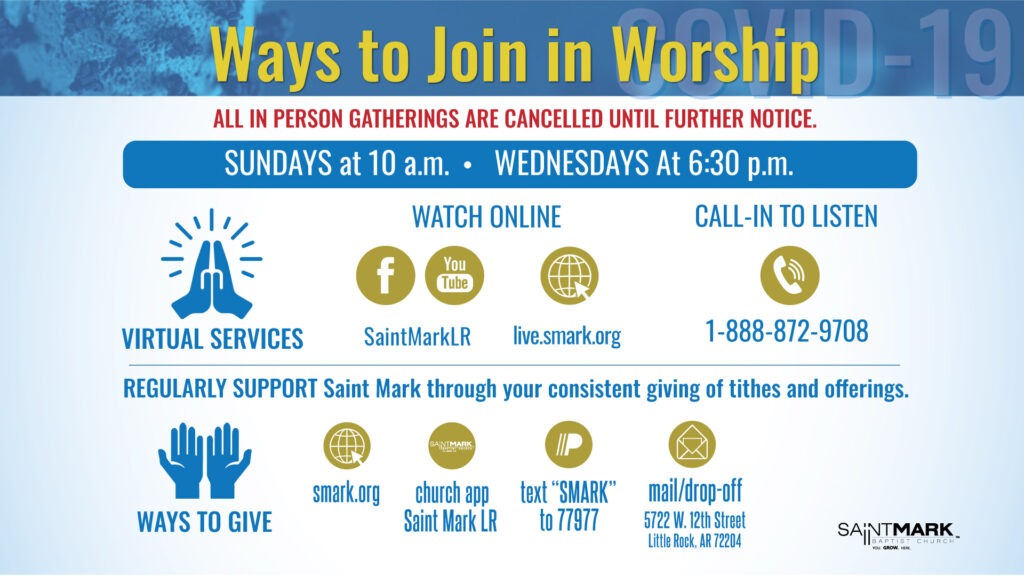 Read the letter from Pastor P HERE.
Following the recommended precautions of our city's leadership and health professionals, we are continuing to practice social distancing. We want to be a part of the solution to suppress exposure to the highly contagious disease. The following outlines changes to our worship, meeting and event schedules:
We will have ONE service at 10 a.m. on Sundays – TO BE VIEWED VIA FACEBOOK AND LIVESTREAM ONLY – until further notice. This means our campus will NOT host members and guests on Sunday, in order to keep our live in-sanctuary attendance at a minimum.
We will only have evening Bible Study on Wednesdays – TO BE VIEWED VIA FACEBOOK AND LIVESTREAM ONLY – until further notice. We will NOT host members and guests on campus on Wednesday.
PLEASE CONTINUE TO REGULARLY SUPPORT SMBC FINANCIALLY through your consistent giving of tithes and offerings through use of your giving envelopes, the Saint Mark app, and the PushPay app, both of which can be downloaded from the app store of your digital device. The church offices will be open during regular business hours for those who want to bring their contributions and leave them in the giving boxes in the Atrium. Those who choose to mail their contributions to the church should use this mailing address:
Saint Mark Baptist Church
5722 W. 12th Street, Little Rock, AR 72204, ATTN: SMBC FINANCE COMMITTEE
ALL OTHER MINISTRY MEETINGS, REHEARSALS, AND ACTIVITIES ARE CANCELLED UNTIL FURTHER NOTICE.
The Saint Mark Baptist Church (SMBC) seeks to be a proactive congregation and community partner in mitigating exposure and spread of the coronavirus in our area. In an effort to inform SMBC members and friends of our continued efforts to ensure the health and safety of our congregation, please be aware of the following:
CURRENT STATUS & PROCEDURES
All persons entering our buildings must stop at the tables at the Main Entrance to conduct any business with the church. Use of hand sanitizer and other safety procedures are mandatory.
The SMBC maintenance staff conducts a daily and regular cleaning of our Worship Center, Children & Youth Center. Family Life Center, and Outreach/Education Center, including worship spaces, meeting rooms, classrooms, offices and restrooms throughout the week prior to and post event usage. This practice utilizes standard cleaning tools, instruments, and disinfectants.
SMBC has a combined twenty-eight operational multi-person and single-use restrooms across our campus. Each are equipped with soap dispensers and paper towels.
SMBC is currently supplied with multiple bottles of hand sanitizer in every gathering space outside of the sanctuary for member and visitor use.
HOW CAN YOU HELP?
Get vaccinated as soon as your opportunity is available. Get on our wait list now.
If you are displaying any symptoms of a cold, flu or virus of ANY FORM:
We ask that you NOT enter the church facility until you recover from any and all symptoms through the full 14-day CDC advised self-quarantine period; this includes ALL members, ministry leaders, visitors and church staff.
We ask that you take the necessary health precautions and contact your doctor for advisement.
We ask that you thoroughly wash your hands for twenty seconds using disinfectant soap in all settings.
We ask that you limit your coughs to within the elbow and sleeve space of the arm to reduce the spread of potential bacteria in all settings.
We ask that you visit the website of The Center of Disease Control for further prevention measures you can take to protect you and your family: https://www.cdc.gov/corona…/2019-ncov/community/…/index.html.
Don't have Adobe Acrobat? Download it free here

.
Bible Study Notes

All In Series

All In Series, Pt. 2

Bound to Be Free

Esther – Week 5

Influencer (Esther: Positioned for Purpose)

Influencer – Week 7

Influencer Week 3

Influencer: Week 9 Notes

Finding My Fit: A Study of the Spiritual Gifts

Finding My Fit: Spiritual Gifts Survey

Fall 2018 – Trending, Part 2

February 28 – Trending
---
Take the Online Spiritual Gifts Survey
Annual Reports
2020 Annual Impact Report
2019 Annual Impact Report
2018 Annual Impact Report
2017 Annual Impact Report
2016 Annual Report
2015 Annual Report
2014 Annual Report

If you or someone you know would like to talk with someone about feeling overwhelmed, anxious, or even distressed, please reach out and will get you to the help you need. Just CLICK HERE to complete a short form and someone will get back to you soon.
---
Other Local Resources
Purposely Psyched Psychotherapy & Consulting, PLLC, Terri Albert, LAC
4 Shackleford Plz, Suite 100  |  Little Rock, AR 72211  |  501-398-1385
terri@purposelypsyched.com
Grace Place Therapy,  Sharita Bilson, LAC
10201 W. Markham St. Suite 316 | Little Rock, AR 72205 | (501) 482-5173
therapywithSharita@gmail.com
The Legacy for Children & Families, LLC, Christasia Coleman, LPC-S
190 Jan Drive, Suite 10 in Sherwood, AR 72120 | 501-590-5121
Beatrice Terrell, LCSW Therapy & Self-Development | 501-689-9365
Paula McCarther, LCSW Insight Renewal Center | 501-414-0111
Wade Fuqua, LPC, LMFT Chenal Family Therapy, PLC | 501-781-2230
Kelly Moffett-Place, LPC New Beginnings Behavioral Health Services | 501-663-1837
Charmaine Beasley – 
PrimeCARE Medical Clinic 
2504 McCain Blvd Ste 118, North Little Rock AR
H.E.R. Counseling and Wellness
201 W. Broadway, Suite G18, North Little Rock, AR 72114 | hercounseling.org
Nikia Johnson, LCSW
H.E.R. Counseling and Wellness
201 W. Broadway, Suite G18, North Little Rock, AR 72114 | hercounseling.org
Email: NikiaJ@hercounseling.org    Phone:901-290-8141
Rice Clinic
Abeer Washington, M.D.
1301 Wilson Rd., Little Rock, AR 72205 | 501.225.0576
Robinson Counseling (Therapy for Individuals, Couples, & Families)
Kitty Robinson
501-308-3741 | 210 S. Pulaski, Little Rock, AR | Kittyrobinsoncounselingpllc.com
Mid State Counseling and Recovery Service
1920 Main Street  – Ste. 229, North Little Rock, AR  72114 | 501-413-8977
SoulCare | 501.663.3955
---
Phone Resource that are 24/7:
National Suicide Hotline – 1.800.272.8255
Child Help USA National (Child Abuse) 1.800.422.4453
Crisis Textile Text "HELLO" to 741741
LGBT Suicide Hotline 866.488.7386
Boys Town At Risk Teens 800.448.3000
Human Trafficking 1.888.373.7888
Teen Dating Violence 1.866.9474
Anti-Violence Project 212.714.1124
National Sexual Assault 1.800.656HOPE
National Eating Disorder 1.800.931.2237
Runaway Switchboard 800.786.2929
Domestic Violence 1.800.799.7233