Important Information regarding Saint Mark response to COVID-19 outbreak
Read the letter from Pastor P HERE.
Following the recommended precautions of our city's leadership and health professionals, we are limiting our gatherings to fewer than 200 people. We want to be a part of the solution to suppress exposure to the highly contagious disease. The following outlines changes to our worship, meeting and event schedules:
We will have ONE service at 10 a.m. on Sunday, March 29, TO BE VIEWED VIA FACEBOOK AND LIVESTREAM ONLY. This means our campus will NOT host members and guests on Sunday, in order to keep our live in-sanctuary attendance at a minimum.
We will only have evening Bible Study on Wednesday, April 1, TO BE VIEWED VIA FACEBOOK AND LIVESTREAM ONLY. We will NOT host members and guests on campus on Wednesday.
PLEASE CONTINUE TO REGULARLY SUPPORT SMBC FINANCIALLY through your consistent giving of tithes and offerings through use of your giving envelopes, the Saint Mark app, and the PushPay app, both of which can be downloaded from the app store of your digital device. The church offices will be open during regular business hours for those who want to bring their contributions and leave them in the giving boxes in the Atrium.Those who choose to mail their contributions to the church should use this mailing address:
          Saint Mark Baptist Church
           5722 W. 12th Street, Little Rock, AR  72204
ATTN: SMBC FINANCE COMMITTEE
ALL OTHER MINISTRY MEETINGS, REHEARSALS, AND ACTIVITIES ARE CANCELLED UNTIL FURTHER NOTICE.
The Saint Mark Baptist Church (SMBC) seeks to be a proactive congregation and community partner in mitigating exposure and spread of the coronavirus in our area. In an effort to inform SMBC members and friends of our continued efforts to ensure the health and safety of our congregation, please be aware of the following:
CURRENT STATUS & PROCEDURES
There are NO reported cases of the coronavirus infection among our church staff or congregation.
The SMBC maintenance staff conducts a daily and regular cleaning of our Worship Center, Children & Youth Center. Family Life Center, and Outreach/Education Center, including worship spaces, meeting rooms, classrooms, offices and restrooms throughout the week prior to and post event usage. This practice utilizes standard cleaning tools, instruments, and disinfectants.
SMBC has a combined twenty-eight operational multi-person and single-use restrooms across our campus. Each are equipped with soap dispensers and paper towels.
SMBC is currently supplied with multiple bottles of hand sanitizer in every gathering space outside of the sanctuary for member and visitor use.
HOW CAN YOU HELP?
If you are displaying any symptoms of a cold, flu or virus of ANY FORM:
We ask that you NOT enter the church facility until you recover from any and all symptoms through the full 14-day CDC advised self-quarantine period; this includes ALL members, ministry leaders, visitors and church staff.
We ask that you take the necessary health precautions and contact your doctor for advisement.
We ask that you thoroughly wash your hands for twenty seconds using disinfectant soap in all settings.
We ask that you limit your coughs to within the elbow and sleeve space of the arm to reduce the spread of potential bacteria in all settings.
We ask that you visit the website of The Center of Disease Control for further prevention measures you can take to protect you and your family: https://www.cdc.gov/corona…/2019-ncov/community/…/index.html.
Don't have Adobe Acrobat? Download it free here 
.
The 2020 Saint Mark Scholarship application period is now open.  The deadline has been extended to April 17.
Here is the brochure with more information as you prepare to apply.
1) Download the application first.
2) Use Adobe Acrobat (free) to complete pages 4-6 and then print it out.
Don't have Adobe Acrobat? Download it free here 
.

Employer Website Listings
2020 Census: http://2020Census.gov/jobs
Ally Financial: https://www.ally.com/about/careers/
Arkansas Blue Cross Blue Shield: https://www.arkansasbluecross.com/company/career-opportunities
Arkansas Children's Hospital: http://www.archildrens.org
Arkansas Department of Corrections: https://adc.arkansas.gov/jobs
Arkansas Department of Human Services: http://www.AR-DHSJobs.com
Arkansas Department of Transportation: http://www.ardot.gov/employment
Arkansas Department of Workforce Services: https://www.arjoblink.arkansas.gov
Arkansas Electric Cooperatives: http://www.aecc.com/careers
Arkansas Health and Wellness: h https://www.arhealthwellness.com/Careers.html
Arkansas Hospice: http://www.arkansashospice.org/careers.aspx
Arvest Bank: https://www.arvest.com/careers
Bill & Hillary Clinton National Airport: https://jobs.clintonairport.com
Central Arkansas Library Systems: https://cals.org/job-opportunities/
CHI St. Vincent: https://chistvincent.com/professional-resources/jobs
City of Little Rock: https://www.littlerock.gov/for-job-seekers/city-employment/
Entergy: http://www.entergy.com/careers/
Fedex: https://careers.fedex.com/fedex/
First Step Technical College: https://www.firststeptc.com/
First Student (school bus provider): http://www.firststudentinc.com/careers
Fox Ridge Luxury Senior Living: http://foxridgeliving.atsondemand.com/
Grand Canyon University: https://jobs.gcu.edu/
Kroger: https://jobs.kroger.com/
Lighthouse Academies: http://www.lha.net
Little Rock's 911 Call Center: https://www.littlerock.gov/for-job-seekers/city-employment/
Little Rock Fire Department: https://www.littlerock.gov/for-job-seekers/become-a-firefighter/
Little Rock Police Department: https://www.littlerock.gov/for-job-seekers/become-a-police-officer/
Little Rock School District:  http://lrsdjobs.org/
Little Rock Water Reclamation Authority: www.lrwra.com/employment
Little Rock Zoo: https://www.littlerock.gov/for-job-seekers/city-employment/
Mark McLarty Toyota: http://careers.mclartyautogroup.com/
NLRSD: https://northlittlerock.tedk12.com/hire/index.aspx
Park University: http://www.park.edu/human-resources/index.html
Primerica: http://www.primericabusinessopportunity.com/
Pulaski County Special School District:  https://www.pcssd.org/careers
Simmons Bank:  https://simmonsbank.com/careers
Skillz Barbershop: http://www.skillzbarbershop.com/
UALR Trios Educational Opportunities Center: http://ualr.edu/trioeocets/
Webster University:  http://www.webster.edu/admissions/apply-now.html
---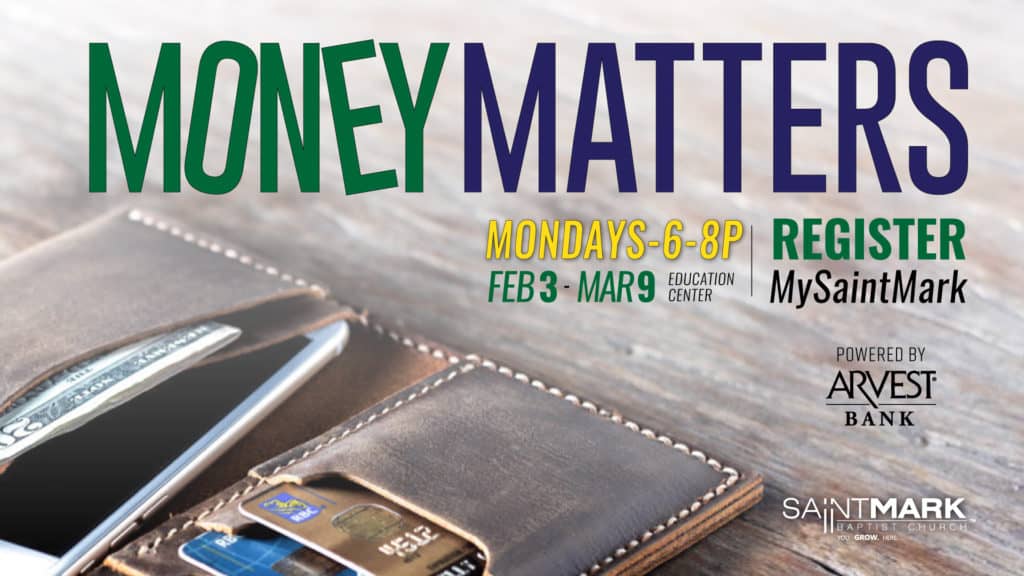 Register for Money Matters by clicking the image above.
Help with Nashville Tornado Relief
Click the image to sign up to help with Nashville Tornado Relief Effort on March 28.
Nashville Tornado Relief
March 28
Leaving at 12am – Return at 11pm
Training March 18 at 5:30 pm
Education Center
Room 320

What is the PUSH Offering?
PUSH Offering is our chance to celebrate God's grace through generosity. It's an opportunity to grow our church accounts instead of deplete them, grow in our personal giving, and follow the Bible's way of raising funds for special projects.
Here's what we should all do: Pray about becoming a consistent giver, plan what to give, and participate by bringing your offering weekly. Its time to Celebrate God's Grace to you by pushing Him to the front of the line in your giving. It's time to push your giving to the next level.
The goal for PUSH Sunday is $150,000.
Watch the sermon below for more about the PUSH Offering.
Special Projects
Our special projects for 2019 include:
• updating flooring in the Worship Center,
• a facelift for the exterior of the Family Life Center and the Education/Outreach Center
• much-needed improvements to the West Parking Lot,
• and updating our outdoor directional signage.
How Can I Give?
Click HERE to setup your PUSH Offering.
Annual Reports
2019 Annual Impact Report
2018 Annual Impact Report
2017 Annual Impact Report
Local Resources
Purposely Psyched Psychotherapy & Consulting, PLLC, Terri Albert, LAC
4 Shackleford Plz, Suite 100  |  Little Rock, AR 72211  |  501-398-1385
terri@purposelypsyched.com
Grace Place Therapy,  Sharita Bilson, LAC
10201 W. Markham St. Suite 316 | Little Rock, AR 72205 | (501) 482-5173
therapywithSharita@gmail.com
The Legacy for Children & Families, LLC, Christasia Coleman, LPC-S
190 Jan Drive, Suite 10 in Sherwood, AR 72120 | 501-590-5121
Beatrice Terrell, LCSW Therapy & Self-Development | 501-689-9365
Paula McCarther, LCSW Insight Renewal Center | 501-414-0111
Wade Fuqua, LPC, LMFT Chenal Family Therapy, PLC | 501-781-2230
Kelly Moffett-Place, LPC New Beginnings Behavioral Health Services | 501-663-1837
Prime Care Medical Clinic Charmaine Beasley
2504 McCain Blvd Ste 118, North Little Rock AR
H.E.R. Counseling and Wellness, Charmaine Beasley, LPC
201 W. Broadway, Suite G18, North Little Rock, AR 72114 | hercounseling.org
Rice Clinic
Abeer Washington, M.D.
1301 Wilson Rd., Little Rock, AR 72205 | 501.225.0576
Robinson Counseling (Therapy for Individuals, Couples, & Families)
Kitty Robinson
501-308-3741 | 210 S. Pulaski, Little Rock, AR | Kittyrobinsoncounselingpllc.com
Mid State Counseling and Recovery Service
1920 Main Street  – Ste. 229, North Little Rock, AR  72114 | 501-413-8977
SoulCare | 501.663.3955
---
Phone Resource that are 24/7:
National Suicide Hotline – 1.800.272.8255
Child Help USA National (Child Abuse) 1.800.422.4453
Crisis Textile Text "HELLO" to 741741
LGBT Suicide Hotline 866.488.7386
Boys Town At Risk Teens 800.448.3000
Human Trafficking 1.888.373.7888
Teen Dating Violence 1.866.9474
Anti-Violence Project 212.714.1124
National Sexual Assault 1.800.656HOPE
National Eating Disorder 1.800.931.2237
Runaway Switchboard 800.786.2929
Domestic Violence 1.800.799.7233